My Date With A Latex Fetish Girl In Los Angeles
I went out with Dana after meeting her online while I was on a work trip to Los Angeles. She was a lot of fun and seemed like a really sweet girl but I had no idea just how freaky she was until we went back to her place.
Dana offered me a drink and we sat on the couch as we relaxed, sitting close to each other. Drinking turned into making out and soon I was on top of her and hard as hell. I was kissing her and she was rubbing her body against mine when I cupped one of her breasts. I fondled it through her top and she moaned. I moved my hand down sliding it under her shirt and was about to get an even better feel of her when she started to move. She pulled away from me and I thought I had taken things too far too fast so I stopped and sat up, getting ready to apologize. She didn't seem upset though and was smiling as she told me that she'd be back in a minute. I watched her leave and finished my drink while I waited for her to come back. After a few minutes I looked up at the entrance. She appeared wearing a shiny red latex catsuit. I was stunned and just stared at her as she stood there.
She didn't seem the type who'd be into this at all and she gave me a naughty grin as she ran her hands over her body. I noticed she was holding something but was more focused on the way the latex stretched over her, showing off every inch of her body. "Mmmm, I feel so good. Touch me." she said, moving in front of me. I did and ran my hands over her stomach, working my way up to her breasts. The light glinted off the latex and somehow that made things even more exciting. "Feels good, doesn't it? It feels even better after I've had a sexy man oil me up." She handed me a bottle of oil and I popped it open, squirting some onto my palm. I pressed my hand against her breast and moved it around on her, spreading the oil in thin streaks. It made the latex more wet and slippery which I really liked and used more oil on her. I oiled up her breasts and her stomach, doing it slowly and making sure she was covered in it. I went lower and saw a small zipper near her pussy. I spread the oil near it and thought of that little slit just under the latex. I rubbed her harder and she pushed her hips forward, practically begging me to fuck her.
I stood up and undid my trousers, smearing them with oil but I didn't care. I grabbed that zipper and yanked it down, exposing a small patch of skin. I grabbed her by the arms, bent her over the coffee table and roughly shoved into her, making her cry out. I held her and my hands slipped all over her wet latex catsuit and it was hard to get a good grip on her. I fucked her hard and fast, desperate to cum. The latex skidded under my fingertips as I was rougher with her, impaling her with my dick and grunting away. She was tight and warm on me but slippery and naughty everywhere else. I shoved forward again and again until I was there. I came and fell forward, holding her around the waist and shooting my load deep inside. As I was coming back down I heard her moan and knew she had cum as well.
We straightened up and she turned to face me. She said nothing as she took the res of my clothes off and when I was naked she pushed me down on the couch, giving me back the bottle of oil. "Now finish the job and don't stop until you've done everywhere." I wonder if there are more girls in Los Angeles who are kinky little latex lovers. I hope I get a chance to find out.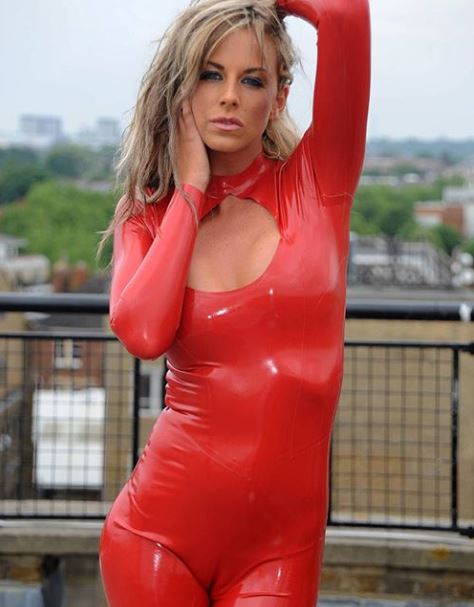 Image Source: thethreehotllls / Instagram