Latex Lady In New york
I recently went on a business trip to New York and ended up having a great night with a guy I picked up at my hotel. His name was Jacob and we actually met in the night club that was part of my hotel. I have a huge latex fetish and wear it every chance I get. For my night out at the club I wore black latex leggings and a black halter top. It got me quite a few looks but Jacob was the one who really grabbed my attention. He was nice and polite and wasn't too pushy about sleeping with me while making it clear he was interested in me. It made a change from guy who talked to me like I was a bimbo. I let him buy me a drink and as we were making small talk his hand slid up my thigh. He stroked me but kept it at that and later on I took him up to my room.
We made out for a bit and he just couldn't keep his hands off my latex legging. he kept touching them and telling me how sexy I looked wearing them. I had brought one other latex item with me and knew now would be a great time to slip into it. I excused myself and went to the bedroom where I changed out of my leggings and top and into my shiny red latex catsuit.
I put it on slowly, enjoying the gentle tug of the latex as it slipped over me and zipped it up. I felt excited as I went back to the living room and his mouth fell open as he saw me. He stood up and we went straight back in the bedroom. His hands were all over me, cupping my ass and squeezing me. He kissed me hard and moaned that I was so hot, he couldn't believe it. I helped him get undressed and could see how hard I was making him. His hand slipped between my legs and cupped me, his fingers pressing into me as best they could. It felt so good that I laid down on the bed and pulled him on top of me, wrapping my legs around his waist. The latex tugged on his skin and he seemed distracted by it but in a good way, like he enjoyed how latex felt on him. His fingers fumbled until he got hold of the small zipper and opened it just enough to fuck me. He pushed into me and we frantically began moving with each other, his dick pounding my pussy as I begged him not to stop. He was being so rough with me that I just laid there and took it, letting the pleasure roll over me. My pussy was soaking wet and I rocked my hips as the feeling got worse and I suddenly came.
I let out a loud cry and he quickly put his hand over my mouth so that the people next door wouldn't hear me. He kept his hand there as he kept going and my pussy was throbbing as I got closer to cumming again. I gave a little shudder as a small orgasm trickled through me and he yanked my hips up and grunted as he filled me with cum.
When he rolled off me I let him catch his breath then asked if he still had some energy left because there were a few more things I wanted to do. Let's just say I kept that man up all night long and we've got plans to hook up the next time I'm in New York wearing latex outfits.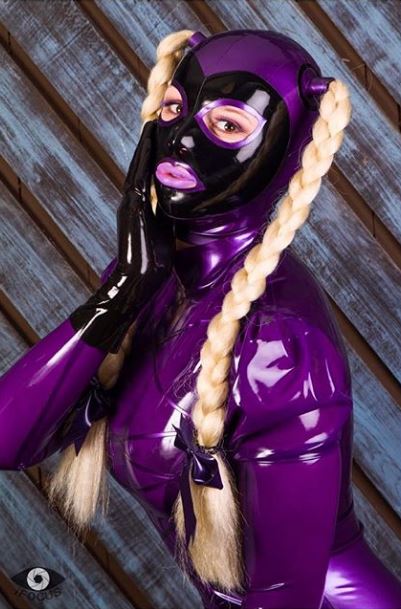 Image Source: missfetilicious / Instagram